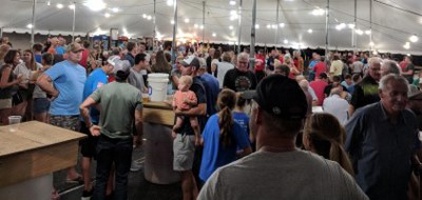 RUSSIA HOMECOMING
FESTIVAL

2022

Bake Wheel

Each family in the parish is asked to donate 2 or 3 items, including cakes, cookies, brownies, rolls, and breads. All items should be securely wrapped and labeled, then delivered to Tyler Francis' garage at 105 Borchers Street (former residence of Leo & Mary Francis) on Saturday of the picnic. Extra cake mixes will be available in the back of church for anyone that would like to do extra baking. This stand closes down early every year because there is a shortage of baked goods. Sophomore Confirmation candidates can aquire service hours by baking items for this stand!


Raffle Table

We are still looking for larger items for the very popular raffle table. Anyone who would like to donate items, ranging from quilts, purses, perfume and makeup items, lawn furniture, floral arrangements, corn hole games, cash and gift certificates are asked to contact Maria Hoehne (937) 638-3165 as soon as possible.


Fancy Stand

Each family is asked to donate 3 items, either purchased or handmade, to the Fancy Stand. A wide variety of items is appreciated, including kitchen towels, hot pads, picnic items, 12-packs of pop, picture frames, and candles, as well as items for children's paddles, such as markers, sidewalk chalk, and small toys. Please deliver items to Nick & Betsy Swint's garage at 103 Borchers Street (former residence of Paul & Rosie Cordonnier) on Saturday of the picnic.


Lunch Stand

We are asking each family in the parish to donate 2 pies. Securely wrap and label them and deliver to the kitchen at St. Remy Hall on Saturday of the picnic. We also need tomatoes, which can be delivered to the hall from 8:30-9:00am on Saturday of the picnic.


Chicken Dinners

These will be served on Sunday of the picnic beginning at 3:00 and ending when sold out. A drive-thru with chicken dinners will be operating behind US Bank on Main Street beginning at 3:00. Please note the new location this year.


Clean Up & Can Crews

Parents of 8th-grade boys we ask that you bring your boys to the picnic grounds at 8:00am to clean up on Sunday morning of the picnic and Monday after the picnic.


Safety

We ask that children not play on the festival grounds after tents are up. Parents are responsible for explaining safety rules to their children. There is more vehicle and pedestrian traffic over the weekend and we ask that everyone drive cautiously.


Handicapped Parking and Street Closings

Parking between the hall and the cemetery will be designated for the handicapped and elderly only. St. Remy Street will be blocked off between Main Street and Borchers Street all weekend. The section of Borchers Street that borders St. Remy Hall will also be closed much of the weekend, as well!


Stand Building & Tear Down

Stands should be built beginning at 6:00pm on Thursday evening. No stand should be torn down on Sunday evening before 11:30pm. Each stand is responsible for the return of their equipment to the proper storage area. Your help with the clean-up is greatly appreciated.


Workers

Parents should remind their children of their scheduled hours and the importance of working to support our parish and community. It takes everyone in the parish to make our festival a success.
If you are unassigned to a stand, please contact Gina Monnin
(
gmonnin@russiaschool.org
)
at Russia School 526-3156
.
She will be happy to honor you with the priviledge of contributing your time and talent to a stand that is short on workers!